As you enjoy the tour, move your mouse over the Shroud image on the right to reveal the "Hidden Image" (requires Adobe Flash). To Return to the Tour Menu,
click here
.
Shroud Tour: The Shroud's Home
St. John's Cathedral, Turin, Italy:
Since 1578, the Shroud has rested in St. John's Cathedral of Turin, Italy, making the Shroud known throughout the world as, "The Shroud of Turin." Turin (or Torino) is a fairly big and busy modern city, perhaps just a little less so than Chicago. Amid the busy streets and large buildings, there are alcoves of quiet areas. Churches hide amid the commercial buildings, and people always are able to be seen walking, eating, or playing in the streets.

St. John's Cathedral resides amid these, seen below in the aerial photographs, it is quite massive in structure.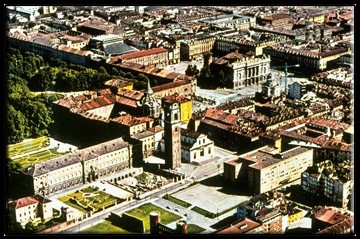 Above: Aerial view of part of the city of Turin.
Below: St. John's Cathedral is highlighted.
Pictures ©Holy Shroud Guild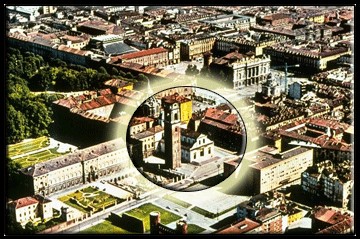 When you first walk in the cathedral, you get a sense of the importance of the relic it holds, its structure leads one to realize the significance of the Church and what happens in that place, but also of the treasure that lies in one of its side chapels.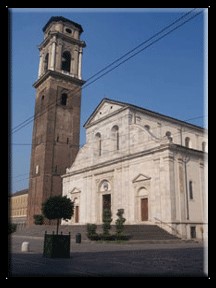 On the left side of the Church is a small side chapel where the Shroud is kept. Above it are the seats which the Savoy Family (who owned the Shroud until 1983) would sit during Mass and other services in the Cathedral.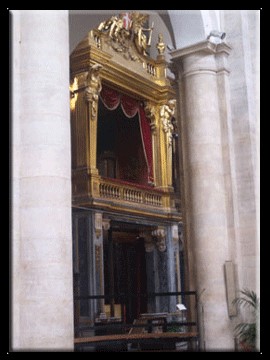 When the Shroud is not being exposed publicly (around every 25 years), it is kept with a cloth covering over it. Pilgrims are able to go and pray near it. This setup is new as of 1998. Before then, the shroud was rolled up and stored in a small box/reliquary. This new set-up allows the shroud to lay flat permanently inside a state of the art containment system which keeps it suspended in Argon gas (this is so oxygen does not come in contact with the Shroud which would cause further dehydration oxidation).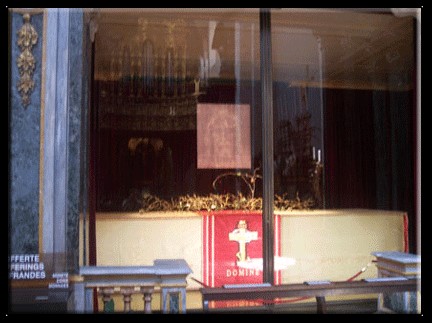 The Shroud rests underneath the Golden cloth.
For more pictures of the Cathedral of Turin (inside and out), please check out our Galleries!
---